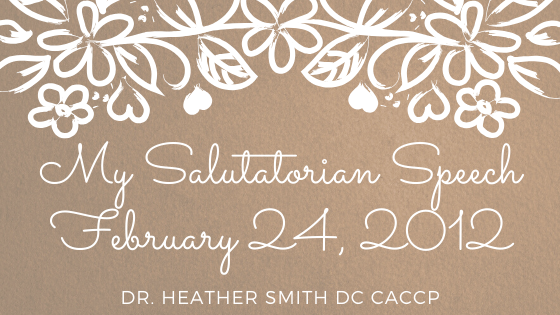 Today marks 8 years since we became Doctors of Chiropractic.  Most of you didn't know that I was the Salutatorian of my class, which meant that I had to give a speech in front of hundreds of people.  Dr. Marley found my speech a few weeks ago (unpacking into our new house), and it was truly sentimental for me to read.  I even had butterflies in my stomach while typing it to share with you all today.  If nothing else, this speech will forever ignite my flame in Chiropractic and in being a Doctor of HEALTH and HEALING.  I hope you enjoy looking back on a little piece of my past like I did.  ☺
---
Good morning class 121, faculty, and all of our beloved family members and friends who are joining us here for this very special occasion, as today marks the first day of our careers as Doctors of Chiropractic! I feel truly honored and blessed to be standing up here among all of the class 121 Awards Recipients and would like to personally congratulate every one of you.

I would like to start off today by thanking the very important people in my life who have supported me through my educational journey. First, I want to thank my husband and best friend who has been by my side every single step of this journey, from late night study sessions to walking across the stage together today. I also want to thank of mine and my husband's family for always believing in me and offering continual strength and guidance over the past three and a half years; as well as providing us with many loving places to come home to during the Holidays and the other short breaks we get scattered throughout the academic year. Finally, I would like to thank two individuals who had a very positive impact on my life and my training as an upcoming Chiropractor; Dr. Burns and Dr. Boesch.

D.D. Palmer started this great profession after restoring a man's hearing by adjusting his spine. While he did not find the "cure for deafness", he did uncover a new healing art which he called Chiropractic, meaning "done by hand". We all need to remember this fact and stay true to our foundational principles. Instead of becoming Doctors who "treat" low back pain, neck pain, and headaches, we need to be Doctors of Chiropractic who find and remove subluxations, thus allowing the body to heal itself and to function at its optimal potential.

All the Ol' Greats of our profession didn't need to look up research articles on musculoskeletal complaints or rely on evidence which proved Chiropractic to be a "successful treatment of low back pain", because they knew and trusted in the power of Chiropractic.

As Dr. Clarence Gonstead stated, "

Remember that Chiropractic always works. When it does not seem to, examine your application, but do not question the Principle." I know that we will all be entering into the filed with different goals and will each take our own spin on how we practice this healing art of Chiropractic, which is one of the many beauties of our great profession, but in the end we are all working toward the same vision, which is to change lives for the better.

When the late, great Dr. Fred Barge asked his father, "how do you achieve success as a Doctor?" Dr. Henry replied with three easy rules to live by:

Strive to Know More
Work Hard
Be Absolutely Honest.
While these words may seem extremely superficial and cliché, I feel that they remain true to being our keys to success today; strive to know more, work hard, and be absolutely honest.

A wise old man once told me this simple phrase; "don't ever be afraid to adjust"! I think we should all take this advice and run with is and I'd like to challenge every single one of you here to give Chiropractic the fighting chance it deserves and to always keep the science, art, and philosophy of Chiropractic alive in your hearts.

So once again, Congratulations Class 121 and may you all have a bright and fulfilling future as Doctors of Chiropractic!

Thank you

 
---
Thank you for being such an amazing Livin' Well Tribe – we wouldn't be where we are today if it weren't for every single one of you.  We appreciate your trust when it comes to your families' health.
Dr. Heather Smith DC CACCP