Meet Dr. Heather Smith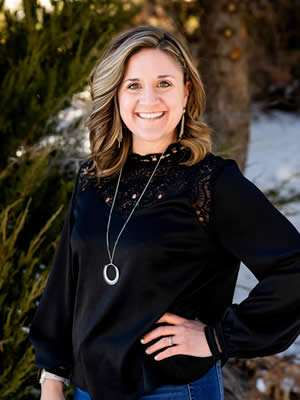 Dr. Heather's chiropractic journey surprisingly began before ever seeing a Chiropractor. Throughout high school, she felt a deep desire to work in healthcare and make a positive impact on people's lives, but she was unsure of the exact direction she wanted to take. Halfway through her undergraduate education at the University of Northern Colorado, she realized traditional western medicine contradicted her personal values and beliefs – she knew that health did not come from a bottle, but from within the body itself. She spent her last few years of college researching all different avenues of healthcare, shadowing different clinics, and interviewing Doctors before choosing to pursue her dream of becoming a Doctor of Chiropractic was her true calling. Chiropractic has allowed Dr. Heather to fulfill her lifelong dream of working with women, children, and expectant mothers.
Academic Experience
Prior to moving to Davenport, Iowa with her now husband, Dr. Marley, Dr. Heather graduated from the University of Northern Colorado with her Bachelor of Science degree. Following undergraduate school, she graduated from Palmer College of Chiropractic summa cum laude and as the salutatorian of her class. Today, Dr. Heather is an active member of the Wyoming Chiropractic Association where she currently serves at the treasurer. She also serves on the Board of Directors for the Greater Cheyenne Chamber of Commerce.
An Eye-Opening Moment
During the first seminar of her ICPA certification, Dr. Heather came had a life-altering experience that would pave her way to becoming an advocate for natural, holistic birthing and parenting.
"The first seminar was taught by the late Dr. Jeanne Ohm, a true leader in our profession when it comes to caring for infants and pregnant mothers. It was during this seminar that I received my certification in Webster Technique, which is a well-known technique and adjustment used for pregnant women. She also taught a lot about home birth and ultimately empowering women to trust in their innate potential to give birth naturally. During that seminar, I realized how safe, gentle, and truly normal the birth process is supposed to be! Before that point, I had never pictured having my babies at home, but I went on to safely birth two beautiful baby girls at home with Dr. Marley by my side as my birth coach, and we have chosen to raise them in the most natural way possible – free from all drugs and toxins. We choose to be a lifelong advocate of safe, natural, drug-free birth!"
Dr. Heather's most important mission at Livin' Well is to make a massive impact on her community when it comes to promoting health, healing, and true wellness. The natural approach to health is easier, safer, and more sustainable than the "outside-in" approach. It is much easier to raise healthy kids than to fix damaged adults! For this reason, Dr. Heather would be highly honored to be YOUR Doctor of Chiropractic and help you & your family achieve optimal health, naturally!
PEDIATRIC CHIROPRACTIC CARE »
Dr. Heather would love to meet you and your family! Contact Livin' Well Family Chiropractic today to schedule your first appointment!
---
Chiropractor Cheyenne | (307) 632-3525