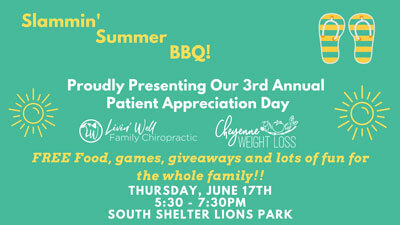 Can you believe we've almost made it to summer, 2021?! Our kids only have a handful of school days remaining before they're on summer mode for 3 months! After this crazy year, our teachers and students deserve an adventurous, fun-filled summer! We can't wait to kick it off with our 3rd annual Patient Appreciation BBQ!
Save the date for Thursday, June 17th from 5:30-7:00! We have rented the South shelter at Lions park for our Slam Into Summer party this year.
We'll have giveaways, backyard games, great food, and lots of fun for your whole family! Please be sure to RSVP here so that we can have a proper headcount for food!
Stay tuned for more information regarding prizes and how to get entered to win.
Remember, this is a private event & it's completely free! If you are a patient in our Chiropractic clinic, or a client working with our health coach – this event is for you and your family!
We appreciate all of you so much. Thank you for valuing your health more than ever over this past year. Let's get together and kick off a great summer!